In the movement to "go green" and the increasing demand for products that deliver a sustainable practice to buyers fingertips, a lot has been going unmentioned within the circles of the press. 
The energy used to manufacture and transport products is often hidden, and it can be the prime target when talking about conserving energy. 
Catherine Mohr works on making robots. She is a self proclaimed geek that went green. Someone after my own heart, she set out to build her house in an optimized fashion by looking at the data. Her TED talk describes her process very well, and in it she summarizes how many decisions we make that appear to be small can be the leaders in energy consumption. Decisions like using a paper towel, cotton cloth, or a sponge have dramatically different water and energy usages, and in the micromanaging world, squeezing out efficiency can become an obsession for those seeking to optimize.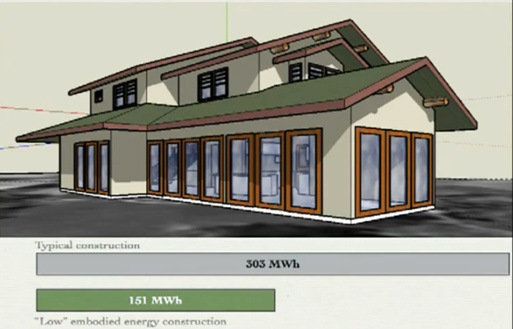 So Catherine Mohr decided to start a blog. A blog about a geek going green, all about working on efficiency in all aspects of living. Grey water treatment, permaculture, low cost (in energy) materials, and other projects implemented into the design of her new house.
She has a list of contacts on her blog page, as well as a spreadsheet showing the embodied energy calculations she used when looking at the construction of her new house.
Check out her blog for more useful information!